The medieval village of Eze Village is beautifully situated on a rocky promontory in the middle of Nice and Monaco. The narrow and winding streets of Eze are characterized by the old stone houses, all of which have been beautifully restored. Along with the fountains, squares and flowers, they make Eze one of the most beautiful medieval villages in the entire French Riviera. At the top of the hill lies the remains of the old castle, dating back to the 12th century. From the castle and the surrounding botanical garden, there is a unique view over the Côte d'Azur.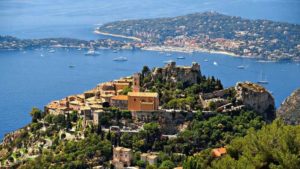 Gourdon – Eagle's Nest of the French Riviera
One of the Most Beautiful Villages of France and a true medieval fortress, Gourdon overlooks the lush Valley of the Wolf. Place Victoria, listed in 1940, unfolds an exceptional panorama of 80 km of coast unveiling the Mediterranean, from Nice to Theoule! On the road of flavors and scents, the village has kept an authentic charm with its 12th century Romanesque church. In its heart, the lively streets, the Provencal houses, the numerous craftsmen and the quality of its reception make it one of the most appreciated places of the region.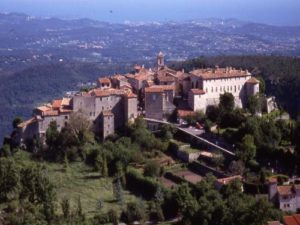 The small village of Tourrettes-sur-Loup is located in the beautiful hinterland between Cannes and Nice just 14 km from the coast. It is an extremely charming medieval village, well worth a visit. Tourrettes-sur-Loup clings to the rocks between two deep gorges and is situated in a stunning landscape, a well-laid out resort. In the heart of the city you will find the horseshoe-shaped Grand Rue, which is packed with art galleries and craft shops. A lot of artists live in the city, who here find the peace and inspiration they need. In the village center is the Château des Villeneuves from the 15th century, which today functions as town hall, and also houses various exhibitions during the year. The building includes a church as well as a 11th-century guard tower and there is a small courtyard with a fountain.